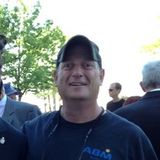 Michael C
Reliable Truck Driver and WORKER!
Truck Driver in Peoria, Arizona
CDL A Truck driver - Currently working for the Korean Mafia pulling ocean containers from the Port of LA/LB back and forth to Phoenix. Every now and then a run to Kingman, ABQ, Vegas, El Paso, Tucson/Nogo.4 years recent experience, but I have been driving on and off for many years. I want to work, If you are fair, then I'm your guy. TX endorsements (everything except a bus or motor cycle), and TWIC in hand, Ready to go TODAY! Zero legal trouble in my life time: well, at least not that the FBI can find! Not a crook, not a bum; Well spoken and a great face for your business. Sorry, but I'm not looking to wander the highways of America in a tuna can for months at a time. Local/Regional only. I'm too old and too lazy to hustle freight. (At least without an electric pallet jack. Those manual pallet jacks should be outlawed!) I am currently a port services driver in Phoenix-Phx, LA- Phx-LA lather, rinse, repeat. Looking for tanker/haz mat or port services. I love my employer, dispatcher, fellow drivers, and my job, and my pay is fair, but could always be better.
Share This Profile
Find Truck Driver in Peoria, Arizona